Smartfuse electrofusion welding
PLASSON has a reputation for manufacturing innovative electrofusion fittings. The PLASSON SmartFuse system has been created to build on this and create a systemised installation and recording process to simplify EF welding.
All SmartFuse fittings have smart resistors built in that feed the correct weld parameters into PLASSON's SmartFuse EF welders as soon as the fitting is connected. No manual entry and no scanning means it's not only faster to set up each and every weld but the potential for costly input errors is eliminated.
The SmartFuse system is designed to guide each weld so that installers have clear steps to follow and there are prompts to ensure stages are fully completed.
So for your next job, ditch the guess work and weld with SmartFuse- the smarter electrofusion system.
SmartFuse fittings include:
couplers
saddles
tees
reducing tees
elbows
adjustable elbows
transitional fittings
Take a look at the full range of fittings here.
PLASSON also offer a range of tooling to complete the SmartFuse system.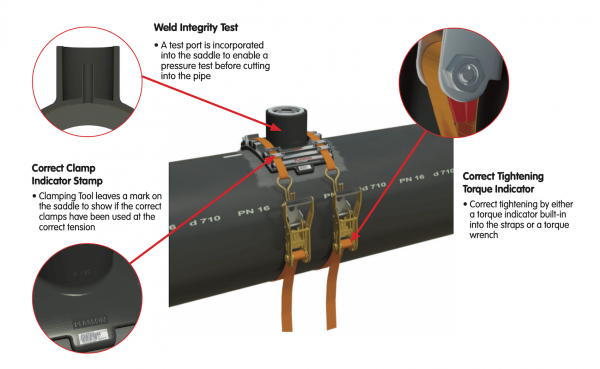 HIGH-PERFORMANCE ELECTROFUSION FITTINGS
The SmartFuse mobile app takes things another step further. PLASSON's SmartFuse offers a weld recording and reporting system. When using the app, installers are not only guided through systemised welds, the app ensures photos record each step. These visual records are stored along with details for the fitting being installed, the precise location, the installer's ID, all control box weld stage times and data and even the temperature on the day!
This data can be saved on site via USB, which is handy in remote areas with limited internet access, or automatically in the cloud. This gives managers and asset owners a real-time comprehensive picture of what is happening on any job, anywhere, anytime
SmartFuse automatic weld-time detection
Weld times for PLASSON fittings are specific to the type of fitting.  This is automatically detected by the control box.
Once welding and the required cool down time is complete, the fitting and the pipe are permanently fused together. The result is a water-tight and gas-tight connection.
Using this system means all weld parameters are preset and controlled ensuring safe, dependable welds.  With the entire process  automatically recorded, contractor certification and record keeping is one less thing to worry about.
LARGE BORE BRANCH SADDLES
Large diameter EF fittings require heavy-duty controllers and generators to supply the necessary power for long weld times. This high load means the control box will need to cool between welding cycles.
For those jobs where time is crititcal, PLASSON has developed a new controller called the PolyControl Plus.  With built-in cooling and novel power transformer technology, the PolyControl Plus reduces time between welds to a minimum.
ELECTROFUSION TOOLS
Using tooling specficially designed to EF welding is key to achieving successful weld. Also ensure equipment that requires calibration has been calibrated.
Equipment may vary depending on the product welded or the diameters being fused but should generally include the following:
Means of measuring the pipe (Pi tape, meter, etc) • Pipe cutting equipment
Marking pencil or pen
Scraping tools
Cleaning material, ensure wipes are saturated with alcohol (have not dried out)
Re-rounding tools
Pipe clamping tools
Power generator – generators must be capable of supplying the required power
Electrofusion control box with correct leads, barcode reader (not on manual boxes) and sufficient output power
PIPE COMPATIBILITY
PLASSON Fittings are weldable to PE80, PE100 and PEX* pipes. Check pipe SDR is compatible with the PLASSON fittings.
Pipe compatibility guidelines:
PLASSON's Electrofusion Fittings:
• Up to 75mm (inclusive) are Weldable to Pipes SDR ≤ 11
• Elbows and Tees of main diameter 40mm-75mm ≤ 17
• 90mm & Up are Weldable to Pipes SDR ≤ 17
• 63-75mm Tapping Saddles and Valves are suitable for SDR11
LightFit:
• 90mm are Weldable to Pipes SDR ≤ 26
• 110mm – 800mm are Weldable to Pipes SDR ≤ 33
Wastewater Saddle:
• 200 mm & Up are Weldable to Pipes SDR ≤ 26
Wastewater Adjustable Elbow:
• 160 mm is Weldable to Pipes SDR ≤ 17
The pipe external diameter must be within the tolerances defined in International standards such as ISO 4437-2, AS/NZS 4130, EN 1555-2 and EN 12201-2.
TIPS AND TRICKS
Pipe preparation is key to successful electrofusion. Regardless of manufacturer, fittings will not perform to their full ability if preparation is not performed according to best practice as instructed by the manufacturer.
The pipe ends must be cut square and even.  Failure to cut the pipe square may leave the heating wire uncovered. This can lead to short circuit, overheating, uncontrolled melting and even sudden ignition.
It is also imporant to remove any burrs or shavings from the pipe ends.
The outer oxidized surface of the pipe must be peeled off prior to electrofusion.
Mark the required peel length by measuring the insertion depth of the fitting. With the fitting still in the bag, place it alongside the pipe end and place a witness mark on the pipe at half the fitting length plus about 2cm.  Peel the pipe up to this point.
Electrofusion fittings are designed to work on a round pipe. PE pipes, being manufactured from a flexible material, have the tendency to become out of round due to various reasons.
In order for the EF process to work properly, it is essential that the pipe is as round as possible. Do not perform an ElectroFusion weld if the pipe does not meet the criteria defined below at the section where the EF fitting is to be welded. Use a pipe re-rounder to correct pipe ovality.